The new all-inclusive Temptation Adult Only Resort & Spa in Cancun
Brought to you by TCV and LLive Reservations, over 12 years servicing
Adult holiday
makers.
ACTIVITIES AND ENTERTAINMENT PROGRAM
Temptation Resort & Spa activities and entertainment program has been designed to satisfy all of our guests, either as active, see-and-be-seen participants or as laughing-out-loud spectators to the action. Whether single or married, here on your own or with a group, our program is for you to enjoy.
NIGHTLY ENTERTAINMENT
A variety of entertainment activities heat up the night with live shows performed by professional cast; live music and dancing; contests; theme nights, and professional entertainment.
<!get DB info>
At Temptation adults only resort in Cancun, you will find every reason to stay up late with our unique entertainment program that, including a variety of sensual theme nights, live shows and activities will heat up your mood. Dare to be tempted and participate in our spicy contests and discover what the night stores for you at Temptation.







---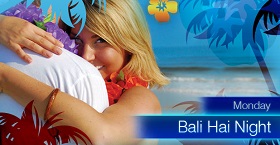 MONDAY - BALI HAI NIGHT:This is the time to feel the Caribbean heat like never before. When the sun goes down, join us for a special dinner buffet right outside El Embarcadero so that you will enjoy the most delicious variety of Caribbean dishes without missing any minute of the action of the night.
This is the perfect opportunity to witness how the Temptastic Pool will be turned into the most ideal scenario for our fire performers and acrobats that will make you feel the heat of the Caribbean like never before. Dance and socialize with other guests to the rhythms of our resident and guest DJs while you keep on enjoying our great assortment of sweet desserts and sip your favorite drink. The bartenders will always be ready to surprise you with delicious and refreshing mixes. Don't forget to wear light fabrics… it will be hot for sure. Dress Code: FREE STYLE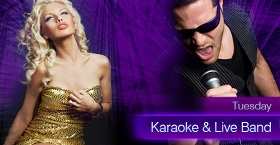 TUESDAY - KARAOKE & LIVE BAND: Ladies, this is the night to feel like a star in your most elegant sensual and gala dress. Gentlemen, you will also have the opportunity to look handsome while you enjoy a delicious dinner at El Embarcadero. Then, you will be invited to join us in the Nice Shoes for our Karaoke night and become our Temptation Idol. You just have to look your sexiest and choose the songs you enjoy singing. You will have a blast and who knows you might end up discovering your singing talent. Be on time to sign up on our hot list and show us how well you can sing, either solo or with the group of fans that you will certainly gain. Later on, you can rest your voice and switch the activity from singing to dancing with our live band at Paty'O, the place to see and be seen. Dress Code: FREE STYLE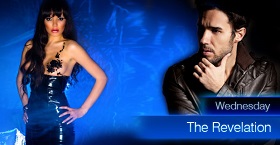 WEDNESDAY - The Revelation: Come and be part of the Revelation Night at Temptation. In the most seductive atmosphere of El Embarcadero restaurant, discover your greatest fetish. What is it? Veils, soft light, hand cuffs, gothic leather outfits, no matter what does it for you, you will find it all here, setting the perfect mood for a succulent dinner with your partner and many moments of passion. Later, we invite you to come to the Nice Shoes disco that will become a perfect stage to enjoy the hottest strippers and good-looking Chippendale dancers scene. Choose a good spot and admire the most revealing bodies as they remove their clothing and display their sex appeals. Well, no matter what, you will get a special treatment, guaranteed! After this exhilarating show, you will live more fantasies at the Paty'O with the mixes of our resident DJ, the best way to reach the wee hours. Dress Code: LEATHER OUTFITS OR SIMPLY DRESS UP FOR ROLE PLAYING.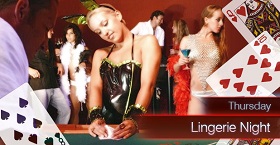 THURSDAY - Lingerie Night The Paty'O invites you to wear your most enticing lingerie or favorite pajamas and join our models that will parade in their sexy outfits. Don't miss our Lingerie Fashion Show, it's a must-experience at Temptation. Later at night, you will discover our Kinky Fantasy Casino where you can play just for fun or with the objective of winning great prizes. The "Sexiest Lingerie" contest makes betting more fun than one can ever imagine!

Dress Code: IN SEXY LINGERIE PATYO CASINO'S LOUNGE AND LINGERIE MANDATORY WILL BE NICE SHOES INSIDE OUR BAR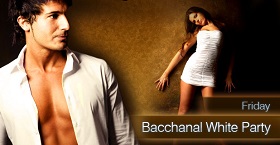 FRIDAY - Bacchanal White Party: Have you ever wondered what the ancient Romans felt partying in their revealing togas? You don't have to any more. Just put on that toga that subtly delineates your figure, and join us at El Embarcadero for dinner. We will take you back to the time when the Romans ruled.

It's true, Friday evenings at Temptation will be bringing back the thrilling parties the ancient cultures like the Romans are so famous for. Later at night, come to the Paty'O, take in a special live performance, be bold, mingle with other guests, and simply be part of this extreme party that will give you the perfect opportunity to share much more than grapes. SEXY & TRENDY WHITE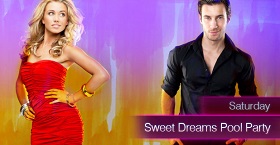 SATURDAY - Sweet Dreams Pool Party Dress your most perfect, red dress and be seduced by the passionate, yet soft ambiance that El Embarcadero restaurant will welcome you with, the best context to invite you to taste the most sensual array of tastes and aromas such as Strawberries, Chocolate, Seafood and Wine. Yes you can be sure, all of them will set the best mood for a memorable night. Later at night, you can leave your inhibitions behind, join us in the Nice Shoes disco and prepare yourself to enjoy our Dazzling Temptation Show… not a regular dancing show, but a sensual ride of unbelievable acrobatics and naughty dance, that has been specially designed to get your heart beating. And the best way to continue with the one of a kind atmosphere that you can only find at Temptation is with our Pool Party. Move to the sensual rhythms that our resident DJ Karma will be thrilling your night with for the wildest and sexiest Night Pool Party in town. Dress Code: LADIES IN RED & GUYS IN BLACK WITH A HINT OF RED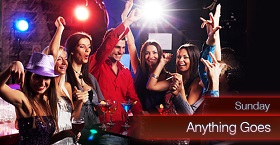 SUNDAY - Anything Goes Sunday nights will give you the warmest welcome to Mexico, as soon as you walk into El Embarcadero, you will be taken in an unbelievable journey through the most fun and sensual part of being in Mexico. After you enjoy the most delicious specialties from the country, exciting and traditional Mexican games will give you a blast. Later at night, the place to be in is the Nice Shoes disco where we will keep your mood forpartying, and invite you to be part of our contest: "Anything goes", that is not named like that for no reason. Interactive games along with heart stopping dance routines will give you more exhilarating time and be sure that the Temptation cast will make sure you are entertained, just remember that the more you participate, the more fun you will have. This is a breaking-through night… the night to get prepared for all what Temptation holds for you!. Dress Code: FREE STYLE

Dare to Be Tempted… A breaking-through night… the night to get prepared for what Temptation holds for you. Interactive games along with heart stopping dance routines will give you an exhilarating time at the Nice Shoes. The cast will make sure you are entertained, just remember that the more you participate, the more fun you will have.

Please notice that this nightly entertainment program and daytime activities are subject to change, and could vary by season Click on banner to visit resort official website for more information: